The Dinkum Dinosaurs Ag Show and Festival Attraction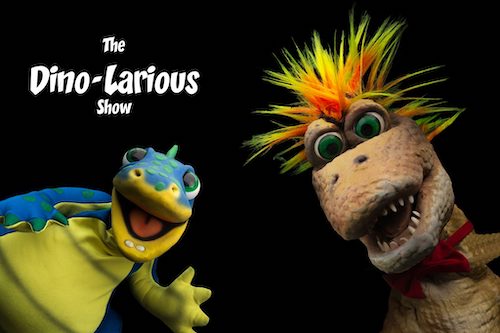 There is no other festival or agricultural show attraction like Dinkum Dinosaurs!
Your guests will be buzzing with excitement after watching our hilarious 5 star comedy show that gets rave reviews at every event. We also have separate interactive appearances by our huge four metre long colourful dancing dinosaur. Between shows there are still lots of fun dinosaurs to see. With 15 different dinosaurs in total there are also moving dinosaur displays and real fossils in the baby dinosaur zoo, and even dinosaurs your guests can sit on for a photo. It's non stop dinosaur fun throughout the entire day.
To make it even better, there is nothing for you to set up or supply. This package was designed to make your job literally easier than dinosaur pie. It comes with its own stage, sound, set, dressing room and staff accommodation and travel are also provided. Just have access to a couple of power points and that's it. It's an organisers dream.
To see it all in action watch the video here…
Please watch our video to see why this delightful family show appeals to both children and adults alike.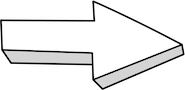 Please watch our video to see why this delightful family show appeals to both children and adults alike.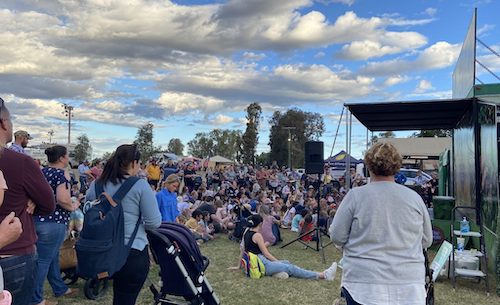 Ag show committees and festival organisers around Australia are raving about the Dinkum Dinosaurs Attraction. Here are a couple of comments from the clients …
"As a show society we are always looking for acts that will entertain a variety of age groups and you certainly did that.The presentation was brilliant and from start to finish it was a pleasure having you as part of our show. Cost wise you are great value for money and the way you come in and set up with no fuss is a bonus to any group hiring you. We hope to have you back again." ~ Mudgeeraba Show Society.
"Dinkum Dinosaurs were a wonderful addition to our Roma Show entertainment line up. Adults and children were thoroughly entertained by James, Dezzy and Tickles. I myself couldn't stop laughing at their antics. If any Ag Show is thinking of having them as part of their entertainment, we would not hesitate to recommend them!!!"
Run like a Raptor to secure your dates.
For more information such as prices, available dates, when they might be in your part of Australia or anything else please
email below
or call Dinkum Dinosaurs on
0412473670
.
Dinkum Dinosaurs

PH: 0412473670

PO Box 2340
Warwick
Western Australia 6024